I really believe there is a must-have item every tea lover should own in order to enjoy the best cup of tea possible…
… A perfect tea mug of course!
The perfect tea mug by DAVIDsTEA is quite possibly one of my favorite mugs to use for tea.
Last December when I was blogging about the 24 Days of Tea Advent Calendar , I used my perfect tea mug every single day for every tea sample that I drank and blogged about.
While I'll be the first skeptic to judge whether a product is actually perfect, because it rarely ever is, this tea infuser mug comes pretty darn close.
I find they're one of the easiest ways to enjoy loose leaf tea, and they're wonderful for a range of different tea lovers. Whether you're a casual or seasoned tea connoisseur, every tea lover should have at least one perfect tea mug.



What Is a Perfect Tea Mug?
The perfect tea mug is the modern day tea cup and saucer that comes with a stainless steel tea infuser. It has a removable lid that serves two unique purposes: the lid keeps your tea hot while its steeping and serves as a coaster afterwards to rest your infuser on.
What It Looks Like
One of the things I enjoy most about my perfect tea mug is its simple design. It comes in a variety of different color and styles, but they all function the same way.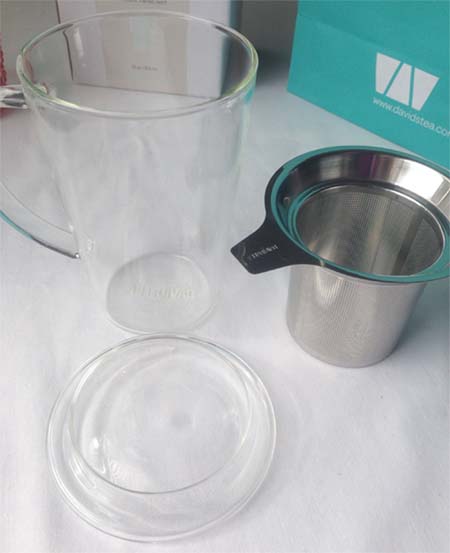 Color
I chose to purchase the clear glass perfect tea cup. Since I do not have any clear cups to drink tea out of, I decided this would make a wonderful addition to my teaware collection.
If you're a tea nerd like me, a clear tea cup is fun to watch tea steep and change color. It's also fun to use to watch a blooming flower tea unfurl as well.
Using a clear tea cup also allows me to really see the color of my tea, which is perfect for when I'm blogging about tea reviews.
I also like the glass tea cup because I find it to be a classic and timeless color for a tea cup, and never really goes out of style.
Perfect tea mugs are available all year round but the colors and styles they come in change often. DAVIDsTEA likes to regularly switch up the colors and they also have limited edition seasonal and holiday perfect cups as well. If you see a cup you really like, you most likely will not see the exact same one again in the future.
You can view a list of their current perfect tea mugs. All these great tea mugs come with an infuser and lid. (Note: the attached link will show you all of DAVIDsTEA perfect tea mugs and nordic tea mugs. The perfect and nordic mugs are essentially the same thing but the nordic mug is larger and has a rounder bottom).
Some of the many cool mugs that come in different colors and styles are:
Sunshine yellow
Black customizable mug (comes with a white pen to write or draw on)
Berry red customizable mug
Sky blue
Aquamarine mosaic print
Color changing mug with fish prints
Note: You can buy a comparable perfect tea mug from Amazon if you do not want to purchase from DT directly.
The above ceramic tea mugs all come with infusers and lids.
Design
As mentioned earlier one of my favorite things about my perfect tea cup is its simple design.
It's makes steeping tea super easy and quick.
The cup itself can hold about 12oz or 354mL of liquid, which is almost two cups of tea. This is a great size for tea drinking and for tea lattes as well.
The tea mug also comes with a large stainless steel infuser that fits perfectly into the cup. The infuser is a great tea strainer because it also fits most other cup sizes and teapots as well.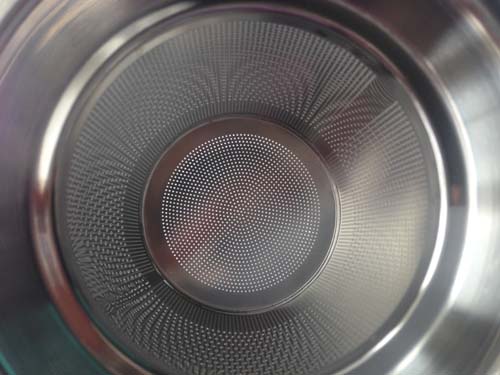 It's fine, small, mesh holes does a wonderful job of keeping fine tea leaves from escaping into your tea. The infuser is also large which is excellent for steeping loose leaf teas that have large leaves when they expand, like certain oolong, green, and black teas.
The infuser basket also has a small handle attached to easier insert and remove the basket from your cup. The handle can sometimes get warm from the hot water, but I have used it many times and have never burned my finger once.
The cup itself is made entirely of crystal clear glass. Although I find the glass to be a little on the thin side, it still does a good job retaining its heat. More on that below.
When brewing tea be careful not to touch the cup, as the glass becomes pipping hot. The handle however is only lukewarm and I have never burned myself by holding the handle. The handle is also very roomy which is perfect for a larger hand as there is lots of space to comfortably hold your cup.
The tea mug also comes with a removable glass lid that sits on top of the infuser. I love this as it serves two great purposes: it keeps my tea hot while keeping the aroma in, and serves as a plate for my tea infuser once I am done steeping. It catches any liquid from the leaves and helps me from dripping and making a mess everywhere.
In my opinion the infuser and lid is what makes the tea cup my favorite tea cup for daily tea drinking. You can also easily make another cup of tea using the same tea leaves, simply by plopping the infuser back into the glass cup and filling with hot water again. Just one of the many benefits of loose leaf tea.
Packaging
I have a guilty confession.
I am a huge sucker for DAVIDsTEA products AND packaging. Sometimes I'm more excited to see how the packaging looks and to open it up. Terrible, I know.
That being said, the perfect tea mug box deserves an honorable mention.
It came in a sturdy box that was packaged with bubble wrap, tissue paper, and cardboard inside.  This ensured my glass cup stayed nice and safe inside, which it did.
How It Works
The perfect tea mug has a large stainless steel removable basket for brewing tea. The lid also keeps your tea hot and serves as a coaster for when you are done steeping.
Step 1: Scoop an appropriate amount of tea into the stainless steel infuser
Step 2: Place the infuser into the perfect tea mug
Step 3: Carefully pour hot water over the leaves. I like to fill with hot water just underneath the rim
Step 4: Cover with lid while steeping
Step 5: Remove lid, remove infuser, and place infuser onto the lid
Safety note: When lifting the infuser out of your cup, be careful as there will still be hot water dripping from the leaves.
After you're finished steeping, use the lid as a coaster and place the infuser onto it. The leaves can be re-used again for making another cup of tea.
The Results
I mentioned earlier that I used my glass perfect tea cup when I was blogging about the 24 Days of Tea. I chose to use this cup because it was a fuss-free way to brew tea, and it allowed me to carefully study the color of the brewed tea. I also used this cup because it has a large stainless steel basket, which is perfect for large tea leaves that need lots of room for expansion.
In this example I decided to brew a cup of Mulled Wine, an oolong by DAVIDsTEA.
I chose this tea because the leaves are large when they expand.
This is how small the leaves look when they are dry.
And what they look after steeping.
As you can see there is still plenty of room left in the basket, which makes it a great infuser to use for steeping tea.
Although the cup is made of glass and does not keep its heat as long as some ceramic cups can, it still does a good job in my opinion. It's been over 30 minutes since I poured in water and I've had the lid on for 5 minutes, and the lid off for another 25 minutes, and the tea is still hot. That's pretty good heat retention if you ask me.
Pros & Cons
While the perfect tea mug is one of my favorite cups to use for tea making and drinking, I still have to be careful when using it as it is made of a fairly thin glass and I don't want to break it. I've made a list of pros and cons when using the perfect mug:
Pros
Each serving brews a generous amount of tea
Comes with a large stainless steel infuser
Lid can be used to keep tea warm and as a coaster
Large infuser provides lots of room for leaf expansion
Large handle
Cons
Glass is thin
Outside of cup becomes very hot
Tea does not stay hot for as long compared to ceramic cups
Lid can sometimes be tricky to clean
How to Clean Your Perfect Tea Mug
Cleaning the perfect tea cup is very easy to clean. The cup is large enough for me to fit my whole hand inside when cleaning, and my hands aren't that small, and the basket is large enough to easily remove all the leaves without having leaves stuck in tight corners.
The only thing that is a pain to clean is the lid. Since the rim of the lid curls inwards, it helps to keep tea inside and from spilling out. It also means, since it's not flat like some other lids are, it's hard to get liquid or tiny leaves out when washing. I usually have to give it a good shake afterwards to get the water out.
When washing I like to use warm soapy water and especially for the infuser my long bottle brush to give it that extra scrub.
Other Tea Mugs with Infuser and Lid
A big bummer about DAVIDsTEA products is that you can only purchase them in-store or online. Usually you receive shipping on orders $50 or more, but I find there are many times when I only want to purchase an individual item.
You also cannot purchase DAVIDsTEA products on Amazon either. However, I have found very similar ceramic and glass tea mug infusers with lids. These tea mugs also come in a variety of different colors, prints, and styles over at Amazon:
You can view a list of more tea mug infusers with lids here.
Final Thoughts
When I'm drinking tea at home the perfect tea mug is usually my go-to choice for teaware.
Whenever I have a busy day scheduled and know I'll be drinking back tea all day, I'll opt for my perfect tea mug instead of fumbling with smaller tea infusers.
In my review of the DAVIDsTEA perfect tea mug, it really is a hassle free way to make tea quickly and effortlessly.
It's a perfect tea mug (no pun intended) to use for home or at the office, and with so many different colors and styles, it makes tea time that much better, stress free, and fun.
If you prefer an alternative and more cost effective way to brewing loose leaf tea, consider the classic tea ball infuser (read our review here), or the modern day large tea ball infuser (also check out our review).
Product Details
Can make up to 12 oz (354 mL) of tea
Keeps tea hot for a minimum of 30 minutes
Comes with large stainless steel infuser basket
Dual purpose lid also serves as a coaster
Large handle for easy holding
Dishwasher safe
Microwave safe (however the infuser is not)
A list of DAVIDsTEA perfect tea mugs and other great products can be found on their website.
You can also purchase a very similar version of the perfect tea mug from Amazon as well.
Click for More Details