For a long time I've always wanted an automatic milk frother.
I love drinking tea but sometimes there are certain teas I would love to make as a tea latte. There are times when I am having this kind of craving I will go to my nearby tea shop and purchase a tea latte. This satisfies my craving temporarily but I always find this option to be more costly.
Instead I wanted to be able to make tea lattes in the comfort of my own home. I have an endless supply of tea at home, so purchasing a cup of tea at a shop for the sake of having it as a latte makes little sense. Plus I own all my favorite flavors anyways 🙂
After many hours of research I decided to purchase the Aeroccino Plus Milk Frother by Nespresso from Amazon. It's an automatic milk frother and I liked how it froths milk in about 70 seconds. It prepares a good quantity of delicious froth while having the option to make that froth hot OR cold depending on your drink. This is perfect for hot drinks such as tea lattes, cappuccinos and macchiatos, or cold drinks in the summer like iced tea lattes or iced cappuccinos. It makes this automatic milk frother perfect to use all year round.
See below for the full Nespresso Aeroccino Plus milk frother review.
Product Details
Comes with two whisks to make either milk froth or hot milk
Milk froth can be made hot or cold with a touch of a button
Make delicious milk froth in 70 seconds
Make hot milk in 130 seconds
Maximum capacity for milk froth: 130mL
Maximum capacity for hot milk: 250mL
Quick and easy cleanup
Compact and quiet
Click to view the most up to date price at Amazon.
What is the Nespresso Aeroccino Plus?
The Nespresso Aeroccino Plus is an automatic milk frother that has the ability to do three different things with your milk:
Create hot milk froth, perfect for tea lattes, cappuccinos, or latte macchiatos
Create cold milk froth, perfect for iced tea lattes or iced cappuccinos
Create hot milk (with no froth), perfect for caffe lattes
This can all be done using one machine with a touch of a button. We'll go into more detail below as to how to use the Aeroccino Plus milk frother.
What It Looks Like
The Nespresso Aeroccino Plus has a simple yet elegant design. It's also compact which makes storing after use easy, and it's also very quiet. This is perfect for use in office settings or small spaces.
Design
The exterior of the Nespresso milk frother consists of stainless steel and plastic. The stainless steel makes up the jug or body of the machine. Attached is a large plastic handle that allows for plenty of space for easy holding and maneuvering. On top is also a removable lid.
Underneath the lid is a magnetic holder that allows you to store one of the whisks when not in use. The second whisk can be stored inside the bottom of the jug. The interior of the jug is Teflon coated so be careful not to leave any scratches.
Parts
The Nespresso Aeroccino Plus consists of several parts:
Two whisks: One whisk for milk frothing (either hot or cold) and the second whisk for hot milk
Removable jug, or 'the body'
Maximum level indicators inside the jug
Removable lid with gasket
Button
Base with power cable
Dimensions
The dimensions for the Nespresso Aeroccino Plus are as follows:
1 inches x 4.1 inches x 6.7 inches
Weighs 1 lb
120V ~ 60Hz 550W
8 oz. (236mL) capacity
Intended for use in the United States and Canada
Built to United States electrical standards
How to Use the Nespresso Aeroccino Plus Milk Frother
One of the things I really like about this automatic milk frother is how quick and easy it is to use.
You have the option of making either hot or cold milk froth, or hot milk, in about a minute.
The below instructions will show you how to use the Nespresso Aeroccino Plus to make hot milk froth. To do so I will be making a Pumpkin Chai tea latte.
Step 1: Connect base to outlet and remove lid from jug
Step 2: Attach appropriate whisk inside base of the jug
Step 3: Pour milk up to one of the 'max level' indicators (this case will be 130mL)
Step 4: Place jug onto the base and put the lid back on
Step 5: Press button to start. It will automatically stop when finished
Step 6: Scoop out the froth and if desired also pour in the remaining heated milk 
Pro Froth Tip: To make the best froth use cold and newly opened whole or semi-skimmed milk.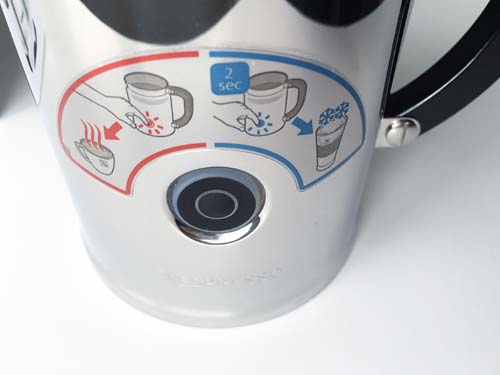 Now if I wanted to make cold froth instead of hot froth, I would follow the exact same steps as above with one small difference: In step #5 I would instead HOLD the button briefly for about 2 seconds instead of just pushing it. This will now create cold froth for cold drinks.
To make hot milk (with no froth) follow the same steps above, except use the hot milk whisk and pour milk to the 250mL line. Hot milk can be used for teas or caffe lattes.
The Results
I used my Nespresso Aeroccino Plus to make a delicious Pumpkin Chai tea latte. I made hot froth by using the milk frothing whisk.
I found that there was more than enough froth for a good tea-to-froth ratio. The temperature of the froth was warm but not as hot as the tea itself.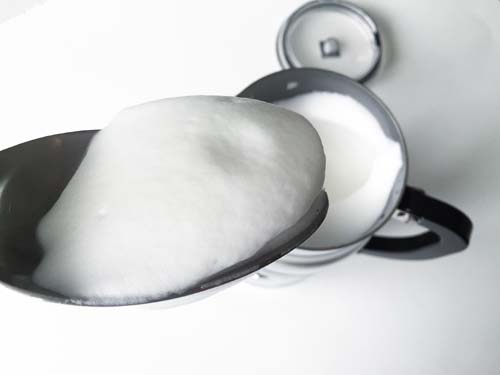 Pros & Cons
What I love most is how quick and easy it is to whip up a latte. I can make a high quality latte at home while saving money at the same time.
Pros
Simple yet elegant design
Easy to use
Can make hot milk froth in about 70 seconds
Can make cold milk froth in about 60 seconds
Can make hot milk in about 130 seconds
Easy to clean
Very quiet
Whisks can attach to the milk frother for easy storage
Cons
If too much milk is poured in it will overflow when in use
Not dishwasher safe
Important: I want to point out that if you are not using your Aerocinno Plus milk frother, you should not leave it attached to the base and plugged in. Doing so for an extended period of time may burn out the element.  It's simple to overlook this part which is why your milk frother may no longer function. There is no on or off switch for this Nespresso milk frother. Therefore if you leave it on the base while plugged in there is always a current traveling to the jug at all times. Not to mention this is also a waste of electricity, albeit even if it is a small amount. There is no benefit to leaving this plugged in when not in use.
Update: According to Nespresso's Facebook this is not the case: "Leaving the Aeroccino plugged in when it is used frequently will not damage it. If you won't be using it for a long period of time, we recommend unplugging it and storing it."
When I'm finished I like to store my jug is stored separately from the base. I also don't leave it plugged in for an extended period of time either.
How to Clean Your Nespresso Aeroccino Plus Milk Frother
Although you can't place this milk frother inside a dishwasher, cleaning is still a breeze. I follow the below steps in order to keep my milk frother in good working shape:
Rinse with water after each use
Always hand wash
Do not use harsh detergents or abrasive cleaning chemicals
Dry with a soft cloth or paper towel
Do not use any harsh fibers or bristles
I personally like to rinse after each and every use and I'm very careful to thoroughly clean the inside. Not doing so may result in dry, sticky milk patches which can build up over time making it harder to clean.
Since the jug is fully removable from the base, you can submerge the jug into water without having to worry about the electric cord getting wet. However my preference is still to avoid submerging the jug into water as much as possible.
Accessories
If you really want to step up your latte game then these accessories will make a nice addition to your Nespresso Aeroccino Plus milk frother. The below links will take you to Amazon for more info.
Final Thoughts
When I was doing research earlier I noticed that this milk frother is primarily directed towards people who drink a lot of coffee based drinks. There's no mention anywhere that it can be used for tea as well. Although I mainly drink tea, this milk frother is perfect for guests who come over and would like either coffee or tea based lattes.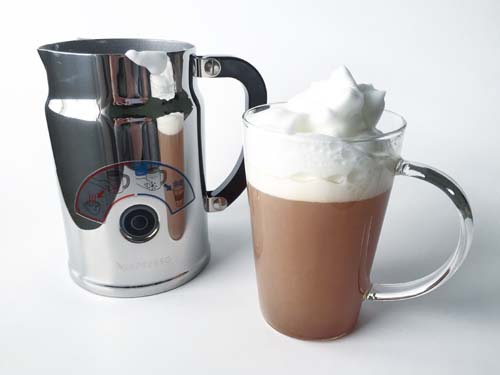 Some of the criteria I was looking for in an automatic milk frother was ease of use, design, durability, and easy cleanup. The Nespresso Aeroccino Plus meets all of the criteria while being reasonably priced. There were other models that were higher end such as the Breville milk frother and the Nespresso Aeroccino3, but I couldn't justify the higher price. I considered some lower end models such as the Gourmia electric milk frother and the Brewberry automatic milk frother but decided with the Aeroccino Plus instead. Overall I'm pleased with my Nespresso Aeroccino Plus and I highly recommend it to anyone who loves latte based drinks and wants to make them at home.
You can buy the Aeroccino Plus Milk Frother by Nespresso at Amazon or Nespresso directly.