Looking for a modern day tea ball infuser? The Schefs stainless steel tea infuser is a premium tea steeper that is sold on Amazon. It's a modern, durable, yet quality tea ball infuser that is reasonably priced. If you're looking for a simple tea steeper for the sole purpose of making an easy and quick cup of tea and have no need for fancy, unique or playful looking steepers, then you should consider the stainless steel tea infuser by Schefs.
See below for the full Schefs tea infuser review.

Product Details
For use with loose leaf tea, ground coffee, or spices
Made from stainless steel
Modern design
Can be placed inside teapots or kettles to brew a large amount of tea
Makes a minimum 8oz cup of tea
Larger than a standard tea ball infuser
Interior base of the infuser is approximately 1 1/4 inches wide, lid is about 1 3/8 inches wide, and the basket itself is about 1 3/8 inches tall
Easy to use
Easy to clean
Dishwasher safe
Click to view the most up to date price at Amazon.
What is the Schefs Stainless Steel Tea Infuser?
This modern day loose leaf infuser is not your typical run of the mill tea ball. It's a high quality infuser that is made better and lasts longer compared to the standard tea ball.
What makes it a great device to brew loose leaf tea is that:
It's large capacity allows for plenty of room for leaf expansion
It's easy to use
It's easy to clean
It can be used in just about any sized cup, mug, teapot, kettle, or pot
"Loose leaf tea expand and needs lots of room when steeping to ensure the best flavor, so we designed our infuser to be larger and to allow optimal water flow. This allows the tea to fully expand and ensures that you get the true and full flavor of your favorite loose leaf teas. Don't waste your premium teas by cramming them into undersized infusers with poor water flow. After all – if you have picked the right tea, water temperature, and steep time- why let your infuser let you down – Use Schefs Tea Infuser to ensure the perfect cup of tea." – Schefs
What It Looks Like
The Schefs stainless steel tea infuser has a simple yet easy to use design that makes brewing loose leaf tea quick and easy.
Design
Its design has a sleek stainless steel cylinder shape wrapped in mesh holes that allow for excellent water flow. This is important to keep in mind in order to steep the best cup of tea possible.
It is also larger than your standard tea ball infuser and will fit inside most tea mugs and tea kettles.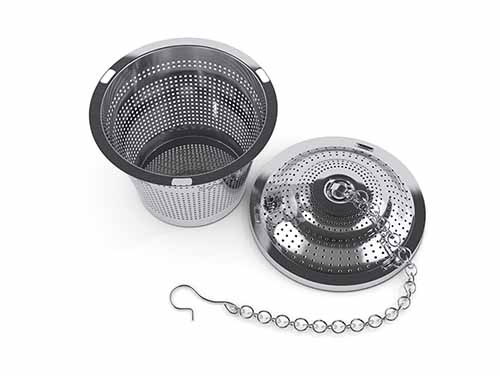 This stainless steel tea infuser also comes with a chain long enough so that it can hang inside of your cup comfortably without sitting too close to the top.
Dimensions
The dimensions are as follows:
About 2 inches in diameter across the top, which is its widest point, and is about 2 inches tall
Due to its flange top and tapered design, the interior dimensions are slightly smaller
The base is approximately 1 1/4 inches across
The lid is about 1 3/8 inches across
The basket is about 1 3/8 inches tall
The interior dimensions provide about 1.5 cubic inches of space for your leaves, which is more than enough room to brew a single cup of tea
How to Use the Schefs Stainless Steel Tea Infuser
Due to the design of the Schefs tea infuser, steeping a cup of tea is incredibly easy.
Its large capacity allows for more water flow which allows tea leaves to fully expand. This results in a delicious cup of tea. For best results it is recommended to use between two teaspoons of tea leaves, depending on the type of tea you're brewing. This will allow plenty of room for the tea leaves to expand while steeping.
To use this stainless steel infuser follow these four easy steps:
Step 1: Twist the lid to open and fill with your favorite tea (usually two teaspoons will do, or fill about one third to one half of the infuser, depending on the size of your leaves)
Step 2: Twist the lid back on to lock into the base
Step 3: You can then place the infuser inside your cup of hot water, travel mug, or even tea kettle
Step 4: Steep for the appropriate amount of time and then remove the infuser when ready
Be careful when removing the Schefs tea infuser that you do so using the chain handle. You don't want to burn your finger by directly touching the infuser while it's still hot. Wait for it to cool down before removing any unwanted tea leaves.
Pros & Cons
Below we'll go over some of the pros and cons that relate to this tea device:
Pros
Works with any type of loose leaf tea
Mesh design helps to reduce small tea leaves from floating into your cup
Large capacity allows for plenty of room for leaf expansion
Higher quality compared to standard tea balls
Inexpensive
60 day money back guarantee
Cons
Incredibly fine tea leaves may escape from the small opening of where the chain connects to the top of the lid
Infuser may still be too hot when removing from mug
I also wanted to point out that not only does Schefs provide a wonderful stainless steel tea infuser, they also have amazing customer service as well. They offer a 60 day money back guarantee if you are less than satisfied with their product.
Sometimes it's just bad luck that we receive a product we're not satisfied with. This could be due to so many different reasons – damage during the production process or during shipping, or it just didn't meet our expectations when we received it. These things can happen to literally any type of product in any industry. The fact that Schefs will offer a money back guarantee speaks volumes as to how much they care about their customers and want to ensure they are satisfied with their product – which in my book is a huge two thumbs up.
You can read more about Schefs tea infuser reviews here.
How to Clean
Once you're finished using the infuser, it's incredibly easy to clean. The below steps will help maintain the longevity of your infuser:
Twist off lid and empty out tea leaves
Rinse with warm soapy water after each use
Can also be placed in the dishwasher
The simple design makes cleaning this tea steeper very quick and easy. It's also dishwasher safe since it is made from stainless steel.
Other Uses
This handy tea ball infuser is typically used to brew loose leaf tea, however it can also be used for other things besides tea making.
For example, if you also like to drink coffee then this infuser can also be used to hold ground coffee beans. Similar to brewing loose leaf tea, place your ground coffee into the infuser, twist the lid back on, and place inside your cup of hot water. Voila – you now brewed a cup of coffee without needing a machine.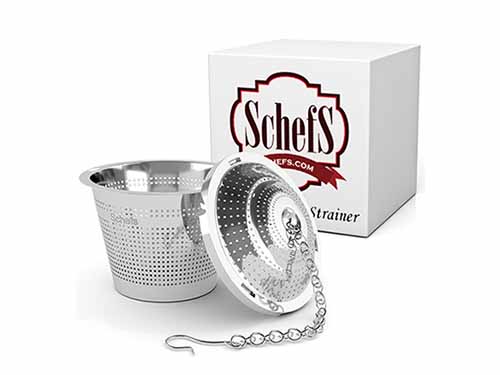 If you like to cook then this tea ball may also come in handy for that. When cooking you can place spices inside the tea ball, such as cloves, black peppers, cardamom, or just about any spice you wish. The large infuser allows plenty of room to load up on spices. This comes in handy when you want the flavor from the spices but don't actually want it inside of what you're cooking, for example soup. Having an extra tea ball saves from the hassle of having to fish out your spices individually.
Final Thoughts
In our review of the Schefs stainless steel tea infuser, I am a big fan of it and think it is one of the best loose leaf tea infusers.
I love that it is an upgraded, modernized version of the classic tea ball.
However if this infuser isn't your cup of tea, then consider similar devices such as the classic tea ball (read our review here), the tea mug infuser with lid (read our review), or the Bodum infuser basket.
If you'd rather use a stainless steel infuser but not as a standalone product, then consider using it in combinations such as:
Overall I find this to be a quality stainless steel tea infuser that brews a good size cup of tea. It's also very affordable yet durable, while simple to use and easy to clean.
It's a staple tool every tea enthusiast should have as part of their arsenal of tea infusers.
You can buy the Stainless Steel Tea Infuser by Schefs at Amazon or at Schefs directly.