I was looking for a new carry travel mug to purchase since I was overdue for a new one, when I just so happened to be nearby a DAVIDsTEA (and when I say happened, I really mean deliberately).
I am a huge fan of loose leaf tea travel mugs and use them almost every single day.
They're one of the most convenient ways to enjoy loose leaf tea either at home, at work, on the go, or all three.
As someone who is very active and always on the go, I was searching for a travel mug that would be sturdy and leak proof, while keeping my tea hot. I commute daily and either drive or use public transit, and as such needed something that was easy to hold, especially when my hands were full with packing and unpacking a car, or carrying lots of bags on a cramped subway.
I was quite impressed with the carry travel mug by DAVIDsTEA as it's a reliable and durable travel mug that looks good and keeps my tea piping hot.



What Is a Carry Travel Mug?
The carry travel mug by DAVIDsTEA is a stylish and reliable travel mug. It's a large tea travel mug with an infuser that is also double walled. This double wall provides insulation to keep your tea hot, or cold if iced, for over 5 hours.
What It Looks Like
I find the travel mugs by DAVIDsTEA all to be very trendy and modern looking, but this particular carry mug caught my attention right away.
Color
I'll admit the first thing I liked about it was the color.
It's a beautiful mint colored carry travel mug, and I'm a sucker for all things mint (get it, all things mint? as in the color and tea?).
It was released as part of their 2015 winter collection, and when I saw this tumbler I knew it was mint to be.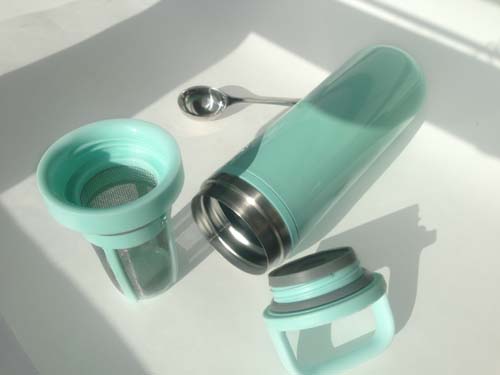 DAVIDsTEA offers travel mugs all year round but the colors vary every season. They regularly change the colors, and sometimes even have limited edition holiday/seasonal travel mugs as well. You can view a list of their current travel mugs.
Some of the many colors they have are:
Mint
Crystal blue
Silver
White
Sunshine yellow
Stainless
Aquamarine
Raspberry pink
As well as mosaic, textured, and pattern/print colors
Design
The second thing I liked about the carry travel mug was its design.
I love that there is a handle on top for easy carrying.
I have yet to own a travel mug that steeps loose leaf tea AND also has a handle. This definitely makes life easier when you are carrying several things at once and your hands are full.
The carry travel mug is also a large mug that holds 16 oz of tea (or 473 mL), which is about two cups of tea. This allows you to consume plenty of tea.
The inside of the travel mug has an inner stainless wall. This metal wall is the main reason as to why tea can stay hot or cold for so many hours, and also keeps your tumbler intact from falls and drops.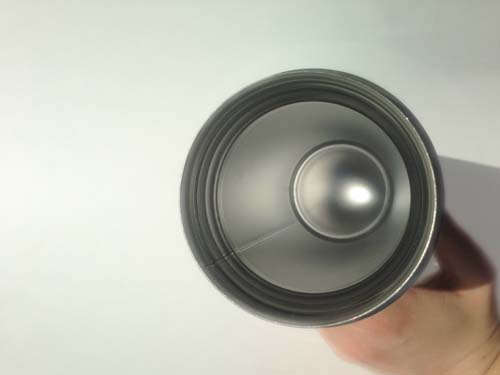 The outside wall of the tumbler is a pearlized enamel finish that is scratch resistant.
Attached to the travel mug is a removable fine mesh infuser used for steeping loose leaf tea. The mesh infuser is fairly roomy and allows for a decent amount of leaf expansion.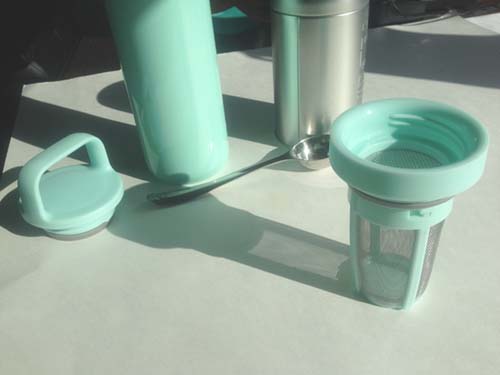 If you plan on steeping teas that have very big leaves when they expand, like certain oolongs or green teas, then it may be slightly crammed inside the mesh basket. However, the majority of teas can be steeped just fine. More on that below.
I would have preferred if the bottom of the infuser basket had a mesh bottom. This could have allowed the water to flow right through the basket when pouring in, allowing for better water flow.
The removable fine infuser is also attached to a lip strainer. The lip is where you sip your tea from, and the strainer provides an additional layer of mesh in order to keep the tea leaves out.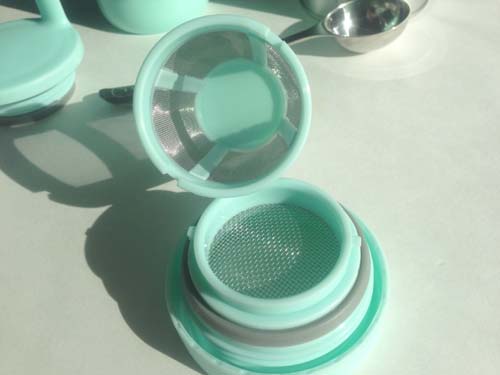 The bottom of the travel mug is also flat and has a rubbery base that is non-slip.
The lid has a handle on top that is very useful for carrying or attaching to a backpack or purse via a carabiner clip. This is great for when you are camping or backpacking, and allows you to attach your travel mug without a worry.
Underneath the lid is also a secret compartment where you can store extra loose leaf tea!
In this compartment I'm able to comfortably store one teaspoon of loose leaf tea, and two teaspoons if I really cram the leaves in there.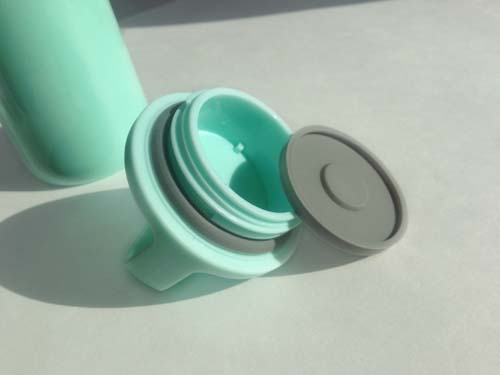 How It Works
The carry travel mug has a removable mesh infuser that attaches to the lip strainer.
Simply twist the mesh infuser clockwise to unlock, fill with tea, and twist counter-clockwise to lock back in.
Step 1: Twist off lid and remove lip strainer and mesh basket from the mug
Step 2: Twist mesh infuser clockwise to unlock from the lip strainer
Step 3: Fill with your favorite tea
Step 4: Attach the infuser back to the lip strainer by twisting counter-clockwise
Step 5: Place the mesh basket back into the body of the mug
Step 6: Slowly pour in hot water and fill to a maximum of one inch below the inside rim
Step 7: Twist on lid for steeping afterwards
Safety note: Before drinking be sure to open the lid slowly in order to release any pressure and hot steam.
Once you're finished steeping, you can either remove the tea leaves from the mesh basket or leave them inside. If you're having a tea that does not become too bitter from over steeping, then you can leave the tea leaves inside.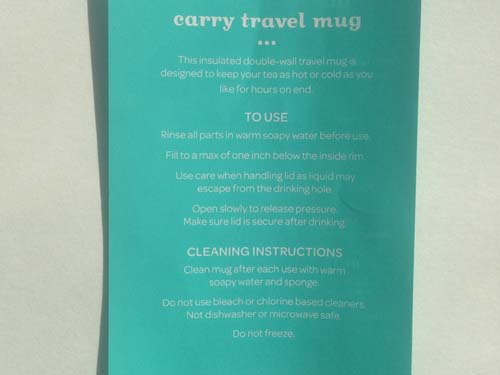 Having the tea leaves available in the mesh basket is also great for when you want to re-steep your tea. This allows for endless cups of yummy tea.
The lip piece also has a mesh filter that helps prevent tea leaves from entering your mouth. The mesh lip piece also helps to keep ice from hitting your teeth or face if you're enjoying iced tea in your travel mug.
The Results
Some of the important questions I had in the back of my mind about this carry travel mug was how much room I had for leaf expansion, how long it kept my tea hot for, and if it leaked. These are important questions because it basically determines what types of tea I can make, whether I'll be making a mess from leakage, and more importantly, how long it will keep my tea hot for.
Test #1
For this example I decided to brew a tea that had large leaves when expanding during steeping. I decided to brew Buddha's Blend by DAVIDsTEA, which is a white and green tea blend that also contains jasmine pearls. This is a perfect tea to use for my experiment because the leaves are huge when they expand.
I filled the infuser basket with one teaspoon of loose leaf tea, and poured in hot water, leaving about a fingernails distance underneath the rim.
I decided to give it a good shake to see if any water would spill out, and it did not.
After steeping, the leaves expanded nicely and had a good amount of room to expand.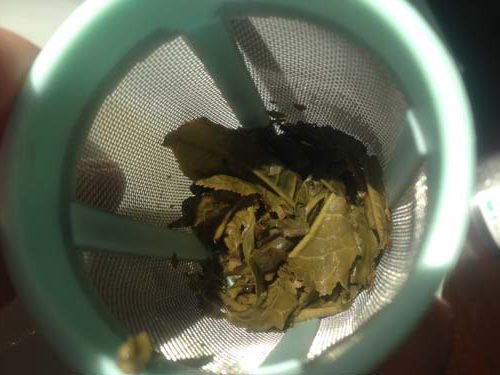 I removed the tea leaves and twisted the lid back on. I gave it another several good shakes, and there was still no leakage.
I made the tea in the morning and decided to leave it in the travel mug for a couple of hours to see how long it kept its heat for. I came back 5 hours later, and surprisingly the tea was still hot.
As a side note: sometimes I use my travel mug to drink tea at home. The first time I did that, I purposely waited 30 minutes with the lid off for the tea to cool down. It was still hot, and I ended up burning my tongue.
I also left a teaspoon of loose leaf tea in the secret compartment during this time. There was a bit of condensation but was still fairly dry.
Test #2
Since I'm actively on the go every day, I wanted to see how the carry travel mug would hold up during the daily grind hustle and bustle.
Every morning I would make tea in my travel mug before leaving the house, and would throw my mug in my lunch bag.
It's a fairly large bag so things tend to roll around in there. At one point the mug had fallen completely on its side, and surprisingly there was no leakage.
I can't say the same for the secret compartment though. When I opened it up, it was damp and soggy, and some of the leaves expanded ever so slightly. The compartment is okay if the tumbler is sitting in an upright position, but when its moving and being rolled around, the leaves do not usually stay dry.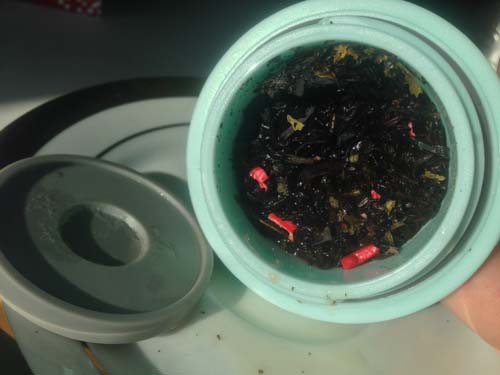 In the car the tumbler fits nicely into the cup holder. Sometimes if I'm in a hurry I just throw the tumbler onto the seat next to me. If it falls on its side thankfully it does not leak.
Pros & Cons
I find the carry travel mug a fantastic travel mug for steeping loose leaf tea. While it does manage to keep your tea hot for several hours, it may be tricky discarding your tea leaves if you're out and about.
Pros
Keeps tea hot for 5+ hours
Does not leak
Large travel mug that can hold up to two cups of tea
Medium sized removable mesh infuser basket
Lip strainer with mesh filter
Lid has a handle attached on top
Cons
Limited steep time control
Secret tea compartment does not keep tea leaves dry if the travel mug has been rolling around or has not been kept in an upright position
Large tea leaves may not have enough room to expand
Tea tends to easily stain the pretty mint finish around the lip strainer area and infuser basket
The mesh in the lip strainer is not as fine as the mesh in the infuser basket
Because the travel mug is large and can keep tea hot for so long, I regularly like to use it at home and pour enough tea into my favorite mug to enjoy one cup at a time. When I do this, I leave the lip strainer on when pouring. I notice that sometimes finer leaves tend to slip out of the lip strainer because the mesh is not as fine as the mesh used for the infuser basket.
How to Clean Your Carry Travel Mug
Taking care of the carry travel mug is fairly low maintenance, but it's always a good idea to follow a few simple cleaning tips in order to help preserve the longevity of your mug and its components inside.
Use warm soapy water to clean after each use
Better to clean the travel mug sooner rather than later
Not dishwasher safe
Do not use chlorine or bleach based cleaners
It's important to remember not to put the carry travel mug inside a dishwasher. Since the mug has a double wall, when you throw these types of mugs inside a washer it can ruin the mugs quality. The heat and water inside a dishwasher puts pressure on the vacuum seal and over time reduces the mugs ability to resist leakage and spills and retain heat.
When cleaning my travel mugs I like to use a long bottle brush to give it that extra scrub.
Other Tea Infuser Travel Mugs
The one huge bummer I find about DAVIDsTEA products is that you can only purchase them in store or on their website. You usually receive free shipping on orders over $50, but there's many times where I find myself just wanting to purchase an individual item.
Sadly DAVIDsTEA is not available on Amazon. However, I have found several other stainless steel tea infuser travel mugs, with double wall construction and similar heat retention, over at Amazon. Click your appropriate region below for more details:
You can view a full list of stainless steel tea infuser travel mugs here. [US 🇺🇸 | CAN 🇨🇦]
Final Thoughts
Overall in my review of the carry travel mug by DAVIDsTEA I am fairly impressed.
It's one of the best travel mugs I have ever used. I find the most important qualities for a good travel mug, in my opinion, is heat retention and no leakage, and this travel mug manages to do both.
These mugs also come in a lot of fun and stylish colors that vary from season to season.
The only thing missing from this mug to make it really great is being able to control steep times.
If using a stainless steel travel mug is not your cup of tea, consider trying a glass tea tumbler such as the Libre Tea Glass Tea Infuser (check out our review here), or a travel mug where you can control your steep times such as the Aladdin Tea Infuser Travel Mug (read our review here).
Product Details
Can hold up to two cups of tea (16 oz / 473 mL)
Double walled which keeps tea hot or cold for 5+ hours
Stainless steel inner wall
Pearlized scratch resistant outer wall
Handle on top for easy carrying
Removable mesh infuser basket
Lip strainer with mesh filter
Secret tea compartment for storing extra tea leaves
Not microwave safe
Do not freeze
BPA free
A variety of carry travel mugs by DAVIDsTEA can be found on their website.