For some time now I've really wanted to get my hands on a Libre glass tea infuser, the pretty bottles made by Libre Tea.
I love using loose leaf tea travel mugs and am a big fan of them. I use them daily while I'm out and about, and even when I'm at home.
I've been very curious to test out how a glass travel mug compares against a stainless steel travel mug in terms of heat retention, spillage, and ease of use.
Since I've been eyeing Libre Teas pretty glass tea infusers for a while, I decided to go ahead and take the plunge. I purchased my Libre glass tea infuser from Amazon and the results were quite interesting.
Check out the full review below!

What Is a Libre Glass Tea Infuser?
The glass tea infuser by Libre is a stylish tea infuser travel mug that is beautifully crafted, visually appealing, yet functional and durable for day to day use. It is a lovely glass tea infuser for those who enjoy drinking tea from a glass cup while having your favorite loose leaf tea on the go.
What It Looks Like
The Libre glass tea infuser come in two versions.
There is the glass 'n poly, and the glass 'n glass.
The glass 'n poly version has a glass interior wall and a durable Poly Tritan exterior wall (which is a hard plastic that is BPA free).
The glass 'n glass version has both a glass interior and exterior wall. At the time of writing this the glass 'n glass versions are no longer available.
The Libre I purchased was the Classic glass 'n poly, and is what I will be reviewing and discussing below.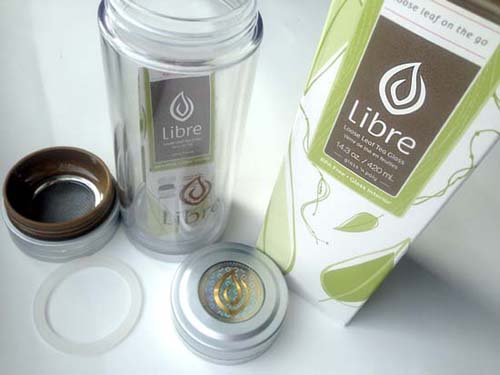 Color
Libre glass tea infuser come in a variety of different colors and sizes.
I decided to purchase the Classic version because I liked the way it looked.
The body of the Libre is this large, clear area where you place your leaves to make tea. This is the focus of the tumbler and looks beautiful when you are brewing tea and the leaves are casually floating around. More on that below.
The base and top lid area of the Libre are both silver colors which I find blends in very nicely with the whole mug. There aren't any distracting, bright, eye popping colors, which is exactly what I wanted to avoid. I wanted to purchase a neutral looking glass tea infuser so I can see my pretty tea leaves and watch my tea steep.
Although the Classic infuser is just my personal taste cup of tea, Libre Tea also offers many other beautiful glass tumblers in other colors, such as the ones below. The links will take you to Amazon for more information.
Libre Classics (also known as Original Silver)
Black Brush (14 oz.) glass interior with poly exterior, base and lid in color black
Starburst Turquoise (14 oz.) glass interior with poly exterior, base and lid in turquoise
Lively Leaves Green (14 oz.) glass interior with poly exterior, base and lid in light green
Garden Dance (14 oz.) glass interior with poly exterior, base and lid in pink
Click to view a list of Libre glass tea infusers at Amazon.
Design
One of my favorite things I like most about my glass tea infuser is its design.
I love that the inside is made entirely of glass. There's just something I find more satisfying when drinking tea from glass rather than a stainless steel tea travel mug.
Because it's also glass, I love being able to watch my tea infuse and change color. Sometimes I also like to let my tea leaves float around when steeping because it looks very pretty and there's just something I find soothing about it.
The bottle is 14.3 oz (420 mL), which allows you to consume almost two cups of tea. I find this is a large amount and is perfect if you're out and about and want to enjoy a decent amount of tea.
As mentioned earlier the Libre glass tea infuser is a beautifully crafted tea infuser mug. It has a double wall, with the inside wall made entirely of glass and the outside wall made of Poly Tritan plastic. The hard plastic exterior helps to protect the inner glass wall from damage due to daily use, travel, or accidental falls. You can place the glass tea infuser inside of your bag and not have to worry about it breaking.
The Libre glass tea infuser also has a removable stainless steel mesh filter that is part of the lip where you sip tea from. The lip is fairly thin which allows you to sip tea comfortably, and is also a BPA-free plastic so it will not burn your mouth from the heat. The mesh filter area is fairly roomy as it allows you to place your tea leaves on top of the filter for steeping. I'm able to comfortably fill the area with about 3 teaspoons of tea.
The lid is 100% BPA-free, and easily twists on and off of the filter. The outside of the lid is metal, but the inside is a hard plastic which prevents the lid from bending. I tried to squeeze the lid to see if it would easily bend and it didn't.
On top of the lid is a beautiful holographic, gold Libre Tea logo.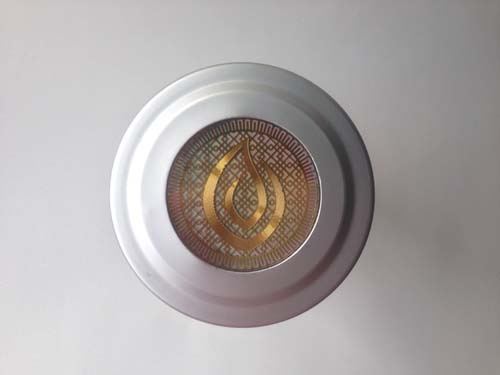 Packaging
I received my glass tea infuser in a nicely packaged Libre Tea box. I liked how every inch and flap of the box was covered with something and wasn't left blank.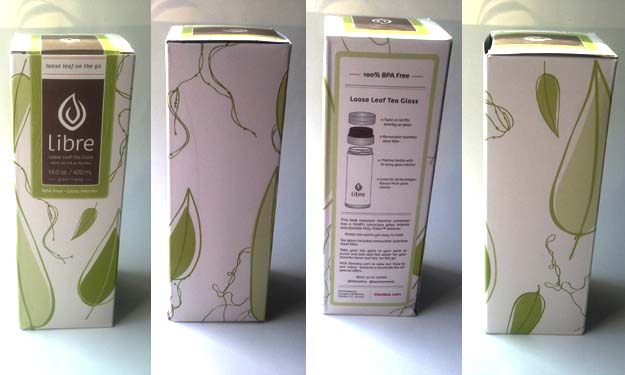 They even utilized the space on the flaps as well.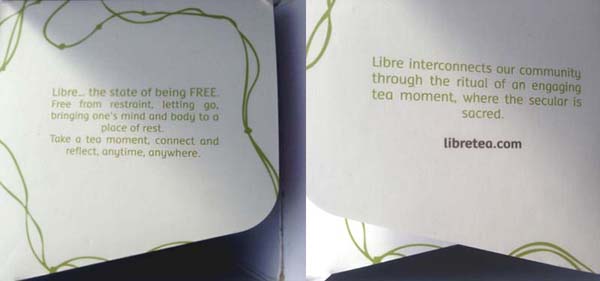 When I opened the box the first thing I noticed was an extra washer sitting on top of my infuser. When I pulled my infuser out of the box and opened it up, it came with a handy care and use instruction guide inside.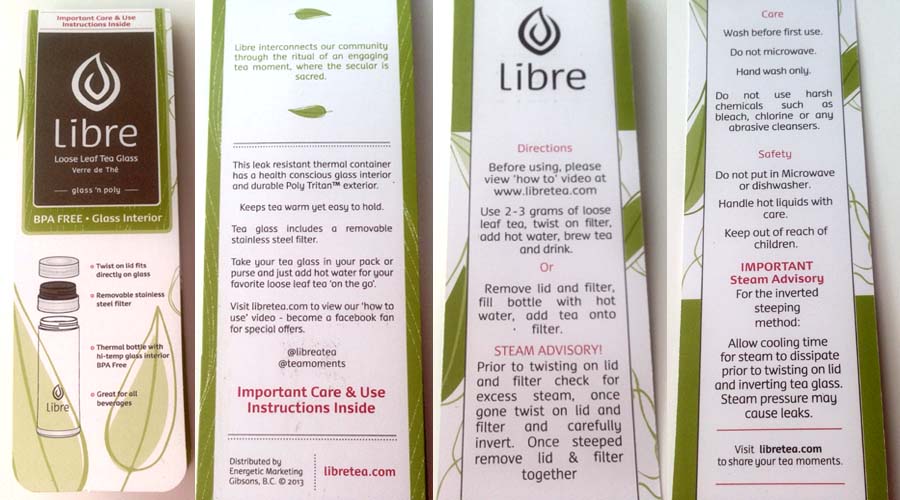 How To Use Your Libre Glass Tea Infuser
There are two unique ways you can use the Libre glass tea infuser.
Making tea with a limited amount of steep time or making tea with an unlimited amount of steep time.
Some tea leaves require a certain amount of steep time or else the tea will become too bitter if it is over brewed, whereas some lighter tea leaves if over steeped can have little to no bitter taste to it.
#1 – To Make Tea With a Limited Amount of Steep Time
This method is useful for teas that require a limited amount of steeping time.
Step 1: Twist off both lid and filter
Step 2: Fill with hot water first and then twist the filter back on
Step 3: Place approximately one teaspoon of loose leaf tea on top of the filter
Step 4: Twist the lid back on and flip the entire glass tea infuser upside down to steep
Step 5: Once your tea has been steeped to its optimal brewing time, simply flip the infuser right side up again
Step 6: Wait several moments and then twist off the lid and remove your tea leaves
Safety note 1:  It is important to remember when using the Libre glass tea infuser, you should let the steam fully escape for a few minutes before twisting the lid back on. This will help prevent condensation from forming in between the double walls. Placing the lid on too quickly before the steam escapes puts pressure onto the seal that separates the glass and plastic walls, which is how tea and moisture seep into the middle area between the walls and could cause leaking. More importantly since steam cannot escape, it creates pressure and when you do remove the lid, hot water can spill out.
Safety note 2: When you flip your infuser right side up again, it's important to wait before twisting the lid off. This is because while the infuser was upside down, water has collected in the area between the filter and lid. You need to let the water fall back down before twisting the lid off or else hot water will spill.
#2 – To Make Tea With an Unlimited Amount of Steep Time
This is my favorite way to use my glass tea infuser. I like brewing teas using this method because I love watching my tea leaves float around while steeping and the water slowly changing color (I know I know, I'm a huge tea nerd).
This method is great if you plan on drinking your tea shortly after it has cooled down, instead of slowly drinking tea throughout the day.
Step 1: Twist off both lid and filter
Step 2: Fill the glass with approximately one teaspoon of loose leaf tea
Step 3: Fill with hot water
Step 4: Twist on both filter and lid
After you have steeped your tea to the appropriate time, you can simply remove the lid, and once your tea has cooled down enough, you can drink straight from the lip strainer. The mesh filter blocks tea leaves from entering your mouth.
Below is a handy video that shows the two ways you can use your Libre:
The main difference between the two methods is the amount of steep time you control. The first method allows you to control how long to steep your tea for, and allows you to remove your leaves once you are done. Whereas the second method, the leaves stay inside the glass infuser at all times and you don't really have control over the steep time.
If using the limited steep time method, I highly recommend you pour the water in first and then add the mesh filter lid with tea. If you instead pour water after, going through the leaves and filter, it's a very slow process and will probably result in hot water spilling. Something I learned the hard way.
My personal preference when using the above two methods are this:
When I'm out and about, I like to steep my tea using the limited steep time method. This ensures I do not accidentally over steep my tea and allow it to taste too bitter.
When I'm home, I like to use the unlimited steep time method, since I know I will be drinking my tea shortly after I have made it. This allows me to avoid worrying about accidental over steeping. Also when I'm at home I'm more able to enjoy the leaves floating around and that is a huge plus.
Other Uses
Using the Libre glass tea infuser can also be used other than making tea. I sometimes use my Libre to make fruit water. I like to add water, a bit of ice, one peppermint leaf, and depending on the fruit I have, blueberries, strawberries, orange, lemon, or lime. It makes for a delicious drink and the mesh filter allows only the water to come through.
The Results
There were a few important questions I really wanted to know about my Libre Tea infuser. I wanted to know how long it kept my tea hot for, whether it leaked, and the amount of space my tea leaves had for expansion. I thought these were the most important questions because it pretty much determined the best types of teas I was able to make, and how practical carrying my glass tea infuser around would be.
Test #1 – Using the Limited Steep Time Method
In this test I decided to brew Glitter & Gold, a black tea blend by DAVIDsTEA, using the limited steep time method. I chose to brew this type of tea because I know it requires a higher temperature when steeping.
I poured in the hot water and waited several minutes for the steam to escape before I twisted the lid on. I then waited several minutes for my tea to steep. I gave it a couple of big shakes to see if water would leak, and it did not.
Before taking the lid off I waited a couple of moments for any remaining water to fall back down into the tumbler. After I took the lid off I then waited until my tea cooled down enough for it to be enjoyable.
I must say there is something I find more enjoyable when drinking from a glass cup. The tea did taste good, but I noticed it did not fully steep at the correct temperature. Since I was waiting for the steam to fully dissipate, that resulted in the water temperature cooling slightly down. This may not be an issue for some teas, but you may want to avoid brewing delicate, very fine or high end teas that require it to be steeped at a specific temperature.
I noticed the Libre kept my tea warm for about an hour.
I also wanted to test out how very thin teas would hold up. The Libre does come with a stainless steel mesh infuser, but I do not find the mesh to be very fine.
I filled the filter with Birthday Cake by DAVIDsTEA, which is a rooibos blend. As soon as I scooped in a teaspoon, much of the rooibos fell right through.  I would try avoiding steeping very fine teas such as rooibos or yerba mate.
Test #2
This second test I chose to brew Milk Oolong by Tao Tea Leaf because I know it has fairly large leaves when it expands. I wanted to see how much room there was for leaf expansion.
I also deliberately did not wait for the steam to dissipate before twisting the lid on. As soon as I flipped the infuser upside down tea leaked out. Afterwards when I opened the lid more tea leaked out. This confirms you absolutely need to wait for the steam to escape every time before putting the lid on. I find this a bit of a bummer since sometimes I can be impatient or in a rush to leave the house, and just want to put on the lid and go.
On the bright side my oolong leaves expanded very nicely!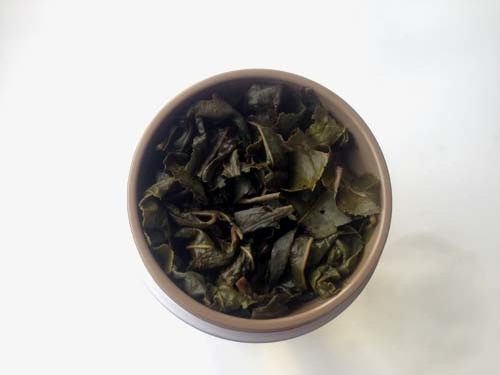 Test #3 – Using the Unlimited Steep Time Method
I was really excited to test my tea steeping skills using the unlimited steep time method.
I tried to find the prettiest tea that I had available at the time, and decided to brew Cherry Blossom by DAVIDsTEA.
I poured in my tea, hot water, twisted the infuser and lid back on (after waiting for the steam to escape first), and I was ready to roll. I flipped my Libre upside down and sat there watching my leaves float around while the water was slowly changing color.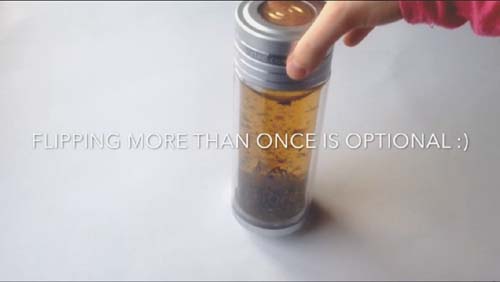 I gave it several good shakes and no water leaked out.
I've also thrown my Libre in my purse a few times when leaving the house and had no spills, however I make sure to wait for the steam to fully escape first. I personally don't like to keep my Libre in my purse because I notice it scratches and scuffs easily. It's a pretty glass tea infuser so I would like to keep it in good condition for as long as possible.
My Libre tea infuser also fits comfortably into my car cup holder as well.
Pros & Cons
I find the Libre glass tea infuser a very lovely tea mug to use for steeping loose tea. Its glass design is comfortably for drinking tea out of and looks nice as well. While I do find that my tea tastes better with a glass tea tumbler, it does not keep my tea as hot compared to traditional stainless steel travel mugs. Waiting for the steam to fully escape before putting the lid on can also be a bummer.
Pros
Keeps tea warm for about an hour
Glass inner wall provides a better tea drinking experience
Plastic exterior wall keeps bottle from breaking and burning your hands
Great for showing off beautiful loose leaf tea
Lovely to drink from
Very versatile, can be used for teas, iced tea, fruit water, etc
Two steeping methods
Good room for leaf expansion
BPA free
Cons
Mesh filter could be finer
Water tends to collect in the filter area
Cannot use in the microwave
The outside scratches and scuffs easily
Must wait for the steam to fully escape before twisting on the lid
My Libre also came with a piece of dust stuck between the walls. There's no way to clean this since the two walls are sealed. I've tried shaking and gently patting the bottom of my Libre to see if I can shift it into a less noticeable area. No luck, it's stuck there.
How to Clean Your Libre Glass Tea Infuser
Keeping the Libre glass tea infuser in good condition is a fairly low maintenance task, but it's always a good idea to follow a few simple tips.
Use warm soapy water when cleaning
It's always better to clean your Libre bottle sooner rather than later
Not dishwasher safe
Do not use chlorine, bleach, or harsh cleaning chemicals
It's important to remember to not put your Libre inside a dishwasher. Since the glass tea infuser has a sealed double wall, putting these types of travel mugs inside a dishwasher can ruin the mugs quality. The heat and water inside a dishwasher will put pressure on the vacuum seal and overtime will make it more prone to leaking and less able to retain heat. It will become easier for moisture and steam to seep in between the two walls as well.
I personally like to clean my travel mugs by using warm soapy water and my long bottle brush.
Final Thoughts
Overall in my review of my glass tea infuser by Libre I am satisfied.
It is an elegant and stylish glass travel mug that is also durable enough to withstand daily use. It has a decent amount of heat retention and there was only leaks when I did not wait for the steam to escape.
What would make the Libre even better is if the tea could stay hotter for longer, although it is more challenging for glass based infusers to do that.
My favorite part about my Libre is steeping tea and watching my pretty tea leaves float around. It is like a snow globe for tea lovers 🙂
Product Details
For use with loose leaf tea
Two unique ways to steep tea
Keeps tea warm for about one hour
Glass interior wall and Poly Tritan exterior wall keeps tea warmer longer and protects the bottle from drops or damage
Makes a lovely 14oz cup of tea
Can be used for both hot and cold drinks
Removable stainless steel mesh filter
Dimensions approximately 2.5 inches x 2.5 inches x 7.5 inches and weighs about 12.8 ounces
BPA free
Car cup friendly
Check out the Libre glass tea infuser at their website or Amazon for more info.