Over the holiday season while I was out doing some Christmas shopping, I happened to walk by a Teavana store in the mall. I immediately kept walking as I knew I shouldn't go inside, since after all, the reason I'm here is to buy Christmas presents for others and not myself, right?
Then I started to have second thoughts.
What if they have a good sale? What if they have a new, limited edition holiday tea? What if they have a tea ware that would make a great gift for a friend (or myself)?
I came to the conclusion that I would regret it more if I didn't go inside to at least check things out. And am I ever glad I did!

I was instantly greeted with a yummy sample of tea, the White Chocolate Peppermint tea by Teavana. I'm usually not a sucker for immediate in-store purchases after a free sample, but this tea was so good I just had to buy more. It was a minty winter wonderland that I knew I needed more of.



What Is White Chocolate Peppermint Tea?
Loose leaf tea
Red rooibos blend
Caffeine free
The Aroma
The White Chocolate Peppermint tea has a delicious smell.
Every time I open the bag, I'm greeted with a sweet and peppermint smell. The peppermint is not intense and overbearing, which is good for those who do not enjoy strong peppermint. I find the peppermint smell to be gentle and comforting.
Leaf Details
Looking at the individual loose leaf pieces, there are pieces of
white chocolate
cocoa nibs
carob pieces
red rooibos
licorice root
You may notice that White Chocolate Peppermint contains rooibos, however you cannot taste the rooibos once brewed. More on that below.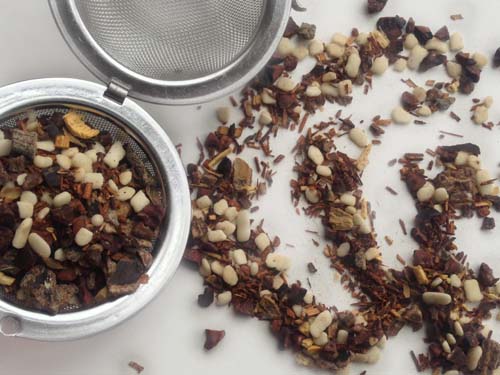 Preparation
Below are the recommended guidelines used when brewing a cup of White Chocolate Peppermint
Use between 1.5 to 2 teaspoon of tea leaves
Boil water, preferably filtered water, to 96°C or 205°F
Steep for 5 minutes
Friendly Reminder:
Over steeping tea for too long will cause the tea to taste bitter.
If you prefer a stronger flavor, it is recommended to use more than the suggested amount of 1.5 – 2 teaspoon of tea leaves.
Tea Tasting
I found White Chocolate Peppermint to be a delicious, holiday tea. It was so good when I tried it at the store that I knew I had to buy more. Even when I brewed it at home, it still had the delicious qualities that I liked about it when I tried it the first time.
There were three noticeable tastes my tongue could detect
Sweet
It was a very sweet tea. I purposely drank it black without adding any milk or sugar in order to get a sense of its full flavor. The tea is incredibly sweet and does not need anything added to make it sweeter.
Creamy
This tea also tastes very creamy and smooth. It tastes so creamy, that there is an oily surface at the top. This is from the white chocolate pieces as they melt while steeping.
Minty
After the initial sweet and creamy flavor, you experience a lovely aftertaste of peppermint. Like the aroma, the peppermint is not repulsive and in your face. It has just enough to make it subtle and gentle, while delicious all at the same time.
It's interesting to note that the base of this tea is made up of red rooibos, yet you can hardly taste the rooibos! I was quite impressed.
The other flavors of white chocolate, peppermint, cocoa nibs, carob pieces, and licorice root, really take over any rooibos you'd be able to taste. This is perfect for those who do not like rooibos and are hesitant to try the tea since its labeled as a 'rooibos tea'.
Since it does contain rooibos as a base, it does give the tea a nice, dark orange, liquor once steeped.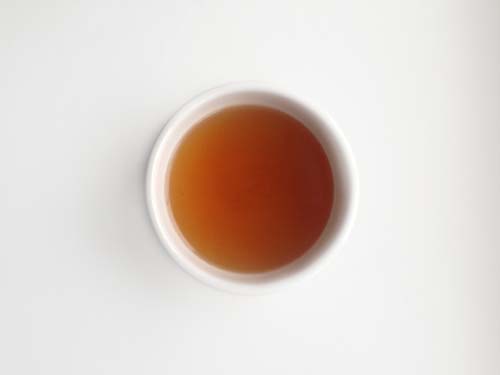 White Chocolate Peppermint Ingredients
White chocolate pieces (sugar, cocoa butter, milk powder, dextrose)
Cocoa kernels
Carob pieces
Red rooibos
Natural and artificial flavor
Vanilla pieces
Coconut blossom sugar
Liqorice root
Contains milk and coconut
 Final Thoughts
Overall I found White Chocolate peppermint to be a delicious, holiday tea. It's sweet, creamy, and minty, which are all key ingredients to a yummy, comforting, tea. It contains no caffeine, which makes it excellent as an evening or dessert tea.
The drawback is that it is slightly oily due to the white chocolate. I had to make sure to scrub my tea infuser and cup extra long to ensure I removed all the oily residue.
White Chocolate Peppermint is a limited edition holiday tea that can be purchased at Teavana or Amazon.