If you are new to the wonderful world of loose leaf tea, you may be wondering what a tea infuser is.
Many tea enthusiasts and health conscious individuals prefer using loose leaf tea as opposed to standard tea bags. Loose leaf provides a better quality tea, tastes richer, and usually comes in more variety and flavors.  Loose leaf is also not steeped inside a paper bag, or composed of leftover tea crumbs or "tea dust", both of which is commonly found in bagged tea. By using a tea infuser to brew loose leaf, it allows you to brew a cup of tea that tastes more delicious and is much better for you.
What is a Tea Infuser?
A tea infuser is a device used to brew loose leaf tea. Tea infusers help to provide a better quality cup of tea and are also very easy to use. You steep your choice of loose tea leaves inside a tea infuser, which then releases the teas flavor. Using a tea infuser also prevents loose tea leaves from floating around in your cup by acting as a strainer or a filter.
What Does a Tea Infuser Look Like?
Tea infusers are typically round and are usually in the shape of a small ball or basket. It is also very common to use tea strainers when brewing loose leaf tea as well. These days you can find tea infusers in a variety of fun shapes and sizes, such as animal infusers or novelty infusers like the Deep Tea Diver and the Mr. Tea Infuser. Further below is a handy list of different types of practical and cool tea infusers.
How Does a Tea Infuser Work?
A tea infuser is very straightforward to use and works in the same manner as a tea bag. Inside the tea infuser is where you place your choice of loose tea leaves, in which you then place into your cup of hot water to brew.  The small holes or mesh covering that make up the area of the tea infuser help to keep your tea leaves inside and not floating around in your cup.
Tea infusers also usually have a chain or handle attached to them for easy removal for when you are finished steeping.
Depending on which type of infuser you are using, the process may vary. Each one works slightly differently however they all follow the same simple steps:
Choose Your Infuser
Whether you're using a traditional tea ball, strainer, or novelty infuser, select your favorite steeper to get the job done. I have several different infusers I use all the time depending on what type of tea I'm brewing and how much tea I'm brewing. For teas that have big leaves when they unfurl, I like to use bigger tea balls such as the Schefs tea infuser. If I'm making a large pot of tea at once then I like to use a tea steeper or my French Press. Whatever your weapon of choice is, be sure that your infuser is clean before you start.
Measure
Determine how much tea you would like to brew. The general rule of thumb is one teaspoon of tea leaves for every cup of tea. Since the majority of tea infusers are meant to brew a single cup of tea at a time, as long as you don't jam your infuser with tea leaves to the brim, you'll end up making the right amount of tea.
Drop It Like It's Hot
Now place your tea infuser into your favorite cup and pour in the hot water! Depending on the type of tea you're brewing, you will need to heat water to the correct temperature and steep for the appropriate amount of time.
Steep
Let your tea infuse for several minutes. When the appropriate amount of time has passed, remove your tea infuser. Be careful when you are removing your infuser for any drips still remaining from the tea leaves. Also be sure to allow your infuser to fully cool down before cleaning.
For more details on steeping loose leaf tea, you can read our How to Brew Loose Leaf Tea: A Beginner's Guide.
Different Types of Tea Infusers
One of my favorite things about tea is discovering new flavors and enjoying classic favorites. One of my favorite things about making tea is deciding which tea infuser to use!
Any tea infuser you choose to use will get the job done.
While some will always be better than others, what varies from one infuser to another is the size of the tea infuser itself.
Hardcore tea heads prefer to use large infuser baskets that have very fine mesh filters, in order for the leaves to fully unfurl and without any small pieces escaping into your cup, such as the Finum Brewing Basket. As well, certain infusers are better for making large batches of tea than other infusers are. And some infusers are just simply meant to put a smile on your face after a long day.
Below is a handy list of some of the most popular, practical, commonly used, and creative tea infusers. Most can be found on the manufacturer's website or on Amazon.
Tea Ball
A tea ball is one of the most classic ways to brew loose leaf tea. This ancient device dates back hundreds of years and is still widely used today. Of course it has evolved over the years and has been fine tuned along the way!
Also sometimes called a tea egg, this infuser is in the shape of a ball. It usually has a latch in the middle where the ball opens up into two halves. Fill one half with a teaspoon of tea leaves, close it up so it's a ball again, and then switch the latch to lock it. Tea balls also have a chain attached so it can hang from the side of your cup.Click for More Details

Tea Ball with Long Handle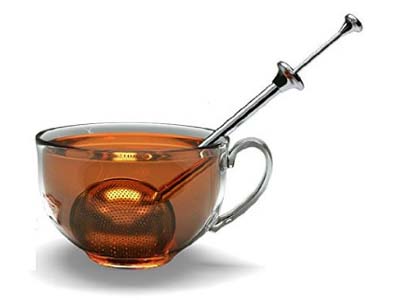 To spice things up I also like to use a tea ball infuser with a long handle. It's a convenient two-in-one tool that makes brewing tea quick and easy.
Instead of a chain there is a handle attached to the tea ball. When you compress the handle, the ball slides open which allows you to scoop in your tea leaves. Releasing the handle slides the ball back together and closes it. By scooping the leaves directly into the tea ball infuser, you're able to measure the right amount of tea leaves and steep them at the same time.Click for More Details

Large Tea Ball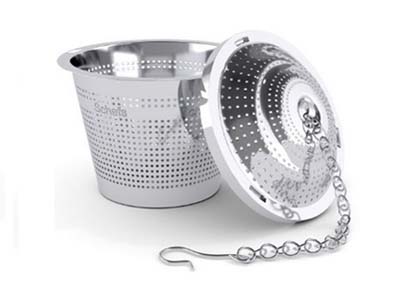 A modern day version of the classic tea ball is the large stainless steel tea ball infuser by Schefs. It works the same way as a tea ball but is much bigger, which allows more room for the tea leaves to expand.Click for More Details

Tea Strainer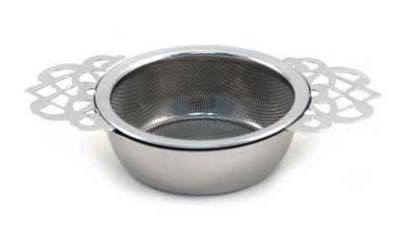 If the tea ball is the most commonly used infuser, then a tea strainer is probably the second most commonly used infuser.
By using a tea strainer, the tea leaves are allowed to float around within your cup or teapot, as there is no tea ball holding the leaves in place. Tea strainers are then used to filter tea leaves when pouring tea from a teapot into your cup.Click for More Details

Teapot With Infuser
Teapots that have built-in mesh infusers are one of the best ways to brew a large amount of loose leaf tea at once.
They are lovely for entertaining guests, or when enjoying tea with a friend. They also make for interesting pieces during tea parties!
Teapots can be made from different materials such as glass, cast iron, ceramic, or stainless steel. Most teapots can be used with or without the infuser.
It's important to remember that if using a teapot, you cannot heat it directly on top of a stove (as opposed to kettles, which can be).
There are two ways you can use a teapot to brew tea:
1. Heat Water Separately
Heat water in a separate kettle or pot to the desired temperature, and then pour that hot water into the teapot with your tea leaves. You can steep the tea leaves with or without the infuser basket.
2. Heat Water Inside
Depending on the type of material the teapot is made from, you can heat water directly inside it. For example most glass teapots can be placed inside an oven or microwave. When heating inside an oven or microwave, do not heat with the infuser basket inside. Once the desired temperature has been reached, then place your tea leaves inside for steeping.
Glass Teapot with Infuser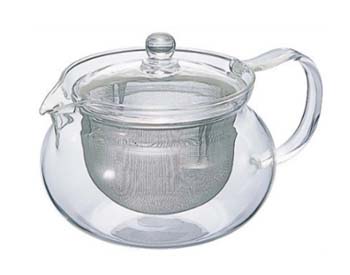 The glass teapot by Hario is an adorable teapot made entirely from Japanese glass. It is a lovely teapot that makes about two servings of tea at a time.
It has a large removable stainless steel mesh basket used to steep loose leaf tea, which allows for plenty of room for the tea leaves to expand. The fine holes also prevent smaller pieces from escaping through.
The Hario glass teapot with infuser is a lovely teapot to use if you prefer brewing tea in glass as opposed to stainless steel teapots.Click for More Details

Stainless Steel Teapot with Infuser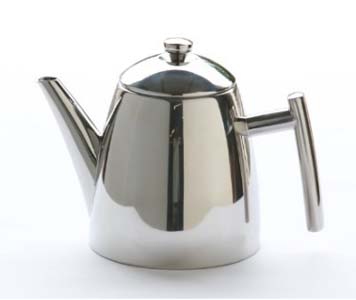 If you already have a collection of stainless steel cookware in your kitchen, and are looking for that perfect stainless steel teapot to complement your existing cookware, then you have found a match made in heaven with the Frieling stainless steel teapot with infuser.
Heck – even if you don't have or want stainless steel cookware, this teapot is a showstopper all on its own.
The Frieling teapot is a very elegant and gorgeous teapot. Made entirely from stainless steel, it has a mirror finish that gives it a high end luxury look. This is something you cannot keep stowed away in your cupboards – it must sit on your stove top when not in use and be admired at.
What I like most about the Frieling steel teapot is that it has a removable mesh filter basket, and a built-in tea leaf guard! The tea guard prevents any stray tea leaves from pouring into your cup.
Since the teapot has a thick and sturdy feel to it, it helps keep tea warm for about 1 to 2 hours.
Although it is made from stainless steel, it is still a teapot and not a kettle, so I would not apply directly onto a stove top when making tea. I would follow the recommended steps above on how to make tea using a teapot.
The stainless steel teapot with infuser by Frieling is definitely a great way to make a statement and impress your guests during tea time.Click for More Details
Ceramic Teapot with Infuser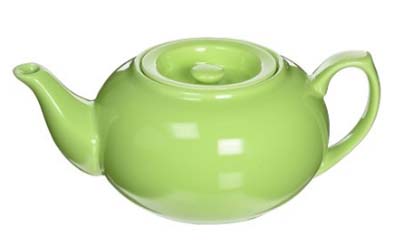 If you're looking for a teapot that is fun, playful, and colorful, then a ceramic teapot is what you're looking for.
There are literally dozens of different types of ceramic teapots, ranging from different colors, shapes and sizes, to different patterns and florals. Ceramic teapots have personalities of their own.
Adagio Teas has a great selection of colorful ceramic teapots. These teapots also come with a removable stainless steel infuser basket.
The Adagio Tea PersonaliTea ceramic teapots come in colors ranging from white, plum, chocolate and more. These 24 ounce teapots make a yummy cup of tea for two.Click for More Details

If you're searching for a ceramic tea pot with a bolder personality, Tea Forte has an adorable selection of ceramic teapots. These teapots also come with removable stainless steel infuser baskets.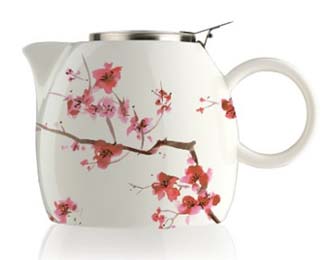 The patterns for Tea Forte PUGG ceramic teapots range from lovely cherry blossoms (my favorite) to other floral prints, snowflakes, and more. These 24 ounce teapots also make a delicious cup of tea for two.Click for More Details

Cast Iron Teapot with Infuser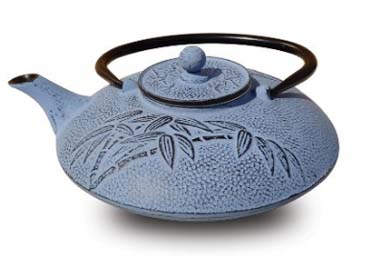 If you want to have tea the authentic way as it was practiced hundreds of years ago, then you will need a cast iron teapot.
Also known as a Tetsubin, these cast iron teapots have been part of traditional Japanese tea ceremonies dating back hundreds of years. It's believed to be the best way to make tea, as the natural iron found in the pot is said to give tea a unique taste.
Today cast iron teapots are used much more frequently on the western side of the world then they have been before. Many cast iron teapots come with removable tea infuser baskets, which is perfect for steeping and filtering loose leaf tea.
Old Dutch has a lovely selection of cast iron teapots with stainless steel infusers. They range from different colors and designs and also have more traditional looking teapots.Click for More Details

Tea Steeper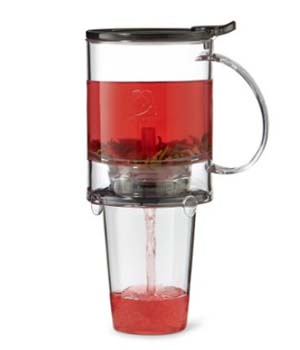 One of my favorite ways to brew tea is by using a tea steeper. It's probably the most fun and most lazy way to make tea.
A tea steeper is essentially a glorified teapot. You start off by steeping your tea as you normally would. However instead of pouring your tea into a cup once it's ready, you place the tea steeper on top of your cup and the tea automatically pours out from the bottom.
When the tea steeper is placed on top of a cup, there is a valve that automatically opens. When you lift the tea steeper off your cup, the valve is closed and tea stops pouring. The mesh filter on the bottom of the steeper prevents loose tea leaves from entering your cup.
The Teavana Perfect Tea Maker comes in two sizes, a 16 ounce tea steeper and 32 ounce tea steeper. The 32 ounce version is perfect for making large quantities of tea, and in the summer time is excellent for making a pitcher of iced tea.Click for More Details

Automatic Tea Maker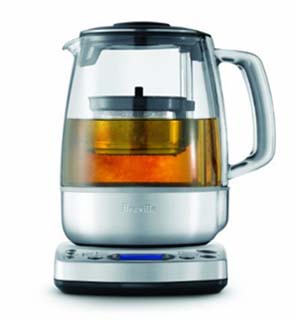 If you are more of a gadget and fine appliance type, you may want to consider automatic tea makers for brewing tea.
These types of tea makers will allow you to brew the best cup of tea possible. Majority of tea makers come with settings to heat your water to its optimal temperature based on the type of tea you're brewing. It also automatically removes the infuser basket once your tea is finished steeping, which prevents your tea from over brewing and tasting bitter.
The Breville One-Touch Tea Maker is a classy and stylish tea maker that automatically makes the perfect cup of tea for you.
It provides two ways to steep your tea. You can choose one of its preset options for the most common tea types (black, green, white, herbal, or oolong tea). Each preset option is set to heat water to its optimal temperature and steep the leaves for the recommended time.
The second way to steep tea using the Breville One-Touch Tea Maker is by using the custom brew options. This allows you to set the water temperature and steep time to your desire, allowing you to adjust the temperature if needed for making a specialty tea that is not in the usual temperature steeping range.
The Breville tea maker also has an automated brew basket. Once the water is at the desired temperature, it automatically lowers the basket for steeping. The basket then moves up and down, to help gently stir the leaves around in order to make the best cup of tea. After steeping is finished the basket automatically retracts.
One of the best things about this tea maker is that you can wake up to a fresh cup of tea waiting for you. Since it has an automatic brew basket, you can set a timer for when you want your tea to begin steeping. The best part – if you accidentally sleep in on the weekend it's okay. The Breville tea maker has a setting that will keep your tea warm for up to one hour after it has been steeped. What's better than sleeping in on the weekend and waking up to a perfectly brewed, warm cup of tea?
Its sleek stainless steel and glass finish also adds a beautiful, modernized touch to your kitchen.
Although it is on the pricier end of the spectrum, if you're a tea enthusiast who appreciates drinking quality cups of tea and prefers multiple feature settings, then it's worth it.Click for More Details

Cute Tea Infusers
Where's the fun in using boring, plain tea ball infusers? Let's add a little fun and creativity to our day by using unique and cute tea infusers.
You can make every cup of tea feel extra special by using fun tea infusers. After all, these adorable infusers will make coffee lovers jealous.
If you are a regular tea drinker and a fan of loose leaf, you will enjoy these cool tea infusers.
Warning: Possible tea puns below.
Deep Tea Diver Infuser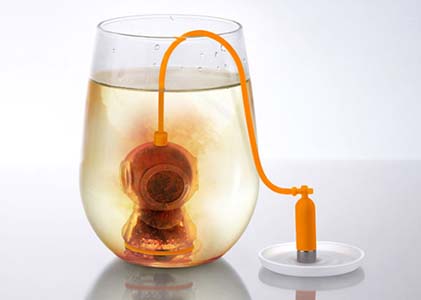 Brew loose leaf in the open seas and explore the underwater world of tea with the Deep Tea Diver by Fred and Friends. His handy stainless steel air tank acts as a useful counterweight so he can dive to just about any depths of tea cups and pots. The air tank and oxygen hose also helps to pull him out of the tea when he's ready.
Go ahead and let your favorite teas take a hot dive.Start Diving

Star Wars Death Star Tea Infuser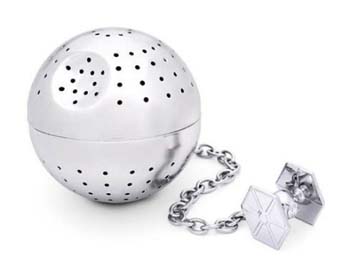 Who knew that the dark side now serves tea?
The Star Wars Death Star tea infuser is a stainless steel infuser designed to look like the Death Star from Star Wars. It works in the exact same way as the good ol' fashioned tea ball – simply open the death star infuser, and fill about one half with loose leaf tea. Close it back up and you're ready to roll.
This nerdy tea infuser combines the best of both worlds – tea and Star Wars, and is perfect for anyone who is a fan of both.Go to the Dark Side

Sharky Tea Infuser

Just when you were beginning to think it was safe to drink tea again, along came the sharky tea infuser…
Just kidding!
The sharky tea infuser by Pablo Mattedoa is completely harmless but makes a killer cup of tea.
Its silicone fin floats above water while its stainless steel body stays submerged with loose leaf tea. For the full Jaws experience, try steeping tea that is red in color to give it that blood effect, such as rooibos or hibiscus tea.
Using the sharky tea infuser to steep tea is not only fun but jawsome.Start Swimming

Robot Tea Infuser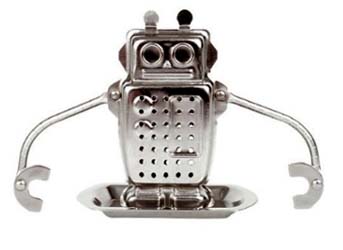 Every now and then even robots like a good cup of tea.
This cute little guy has adjustable arms and hands that will fit onto just about any cup or mug. Simply open up his torso area, and scoop in your favorite loose leaf tea. Close him back up, and then let him hang out in your cup.
Made from stainless steel, this robot tea infuser by Kikkerland likes to hang onto your cup of tea while steeping.
Steeping a yummy cup of tea with this cute robot strainer will always be within reach.Start Steeping

Mr. Tea Infuser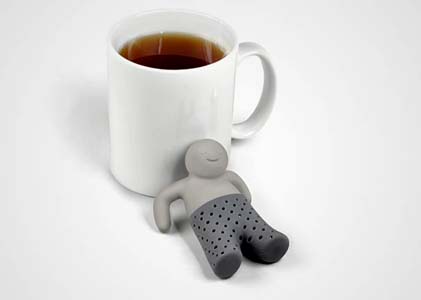 Had a long day at work? Then it's time to chill out with the Mr. Tea infuser.
This cool tea infuser is the perfect companion to brew a cup of tea with. The Fred & Friends Mr. Tea infuser is made from food grade silicone. Simply fill his pants with loose leaf tea, put the pants back on, and then let him hang out inside of your cup. He'll be sure to brew you a nice cup of tea.
The Mr. Tea infuser rests right on the inside of your cup. Seeing him relaxing and chilling out will be sure to have a calming effect on anyone who passes by.
Relax, sit back, and let Mr. Tea do all the work!Start Relaxing

Tea Mug with Infuser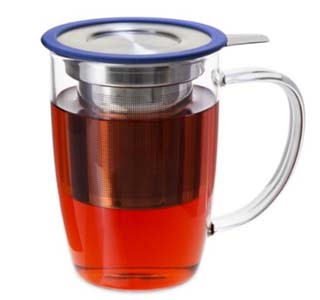 The tea mug with infuser and lid is one of the most comfortable ways to enjoy loose leaf tea. It's wonderful because it simplifies the process of making a delicious cup of tea.
If you are unfamiliar with tea infuser mugs, they are like a teapot in a cup.
The FORLIFE glass mug comes with a stainless steel infuser basket and lid. The infuser basket is where you place your loose leaf tea for steeping. The lid keeps your tea warm while it steeps and also serves as a coaster to rest your infuser on afterwards.
What's great about tea infuser mugs is that you can place the infuser basket back into your cup, pour in hot water, and re-steep another cup of tea. This is wonderful for when you feel like having several cups of tea on a lazy Sunday.Click for More Details

Tea Infuser Travel Mug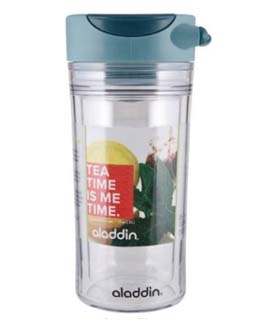 If you want to enjoy loose leaf tea on the go, then you'll need a tea infuser travel mug.
These types of travel mugs are specially made for loose leaf, although they can usually be used for other types of beverages such as bagged tea, iced tea, juices, and sometimes coffee.
The Aladdin tea infuser travel mug is perfect for steeping loose leaf tea on the go.
It has a stainless steel infuser basket that allows you to control how long to steep tea for.
Simply add tea to the basket, fill the infuser with hot water, and lower the basket. The lever on the side allows you to lower and raise the basket whenever you want, which means you'll never have to worry about over steeping your tea while you're out and about again.Click for More Details

Final Thoughts
Now that you know what a tea infuser is, you can now select the right infuser to brew loose leaf tea.
Whether you're brewing a large pot of tea, a single cup for yourself, or carrying some for on the go, there is a right infuser to get the job done.
Cast iron teapots? Electric tea makers? Novelty tea infusers? These are just some of many, in the wide world of tea infusers.
What kind of tea infusers do you like to use a why? Are there specific ones you use when making certain types of teas? I would love to hear your thoughts in the comments below.