When I first heard of Natural Warrior Tea I was intrigued by their message of providing high quality organic teas that help to stay energized throughout the day.
Although I like the occasional cup of coffee every now and then, the crashes I get afterwards are always a bummer. So when I heard of Natural Warrior Tea, I was really curious to try one of their teas to see what an energy tea was like.
After browsing around on their website, I could see that they have different teas all providing different types of health benefits.
No matter what type of warrior you are, there is a tea for you!




What Is Natural Warrior Tea?
A collection of organic loose leaf teas for people who have active lifestyles. We'll be reviewing one of their green teas called Guardian Brew.
Origin
Fujian, China
Interesting Notes
Low caffeine
High in antioxidants
High energy tea
No jitters
No crash
Endurance
Anti-inflammatory
Burn more fat
The Aroma
The Guardian Brew green tea has a leafy, earthy, aroma to it. While I was steeping the tea I noticed  these notes as well.
Leaf Details
Long and twisty pieces of green tea leaves along with smaller, chunkier pieces.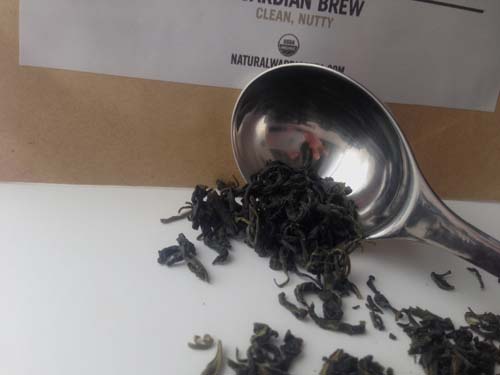 Preparation
Below are the recommended guidelines when brewing a cup of Guardian Brew green tea
Scoop three quarters of a teaspoon (¾ tsp)of tea leaves
Boil water, preferably filtered water, to 175°F or 79.4°C
Steep for 2 to 3 minutes
I used closer to a full teaspoon of tea leaves, which is slightly more than the recommended quantity, and my tea turned out just fine and was not bitter or concentrate.
Tea Tasting
Now for the best part – how it tastes!
I'll be honest, while I was waiting for my tea to cool down I was guessing how it was going to taste and what flavor it would have.
Since the aroma had more of an earthy, leafy punch, I figured it would have a similar taste as well.
I was surprised and delighted to find that it tasted very smooth and subtle. It had a hint of an earthy aftertaste and was slightly sweet for a green tea but not overly sweet. It had that level of sweetness you find naturally in some teas. This is great for those who aren't regular green tea drinkers and are easily turned off by strong and dominant earthy flavors you sometimes find in green teas. I find Guardian Brew strikes the right balance.
Once brewed the tea had a light, golden yellow color to it. If you're using a tea infuser to steep the tea, be sure to use an infuser that has lots of room for leaf expansion. I decided to use my scoop n slide infuser which has lots of room for the leaves to unfurl.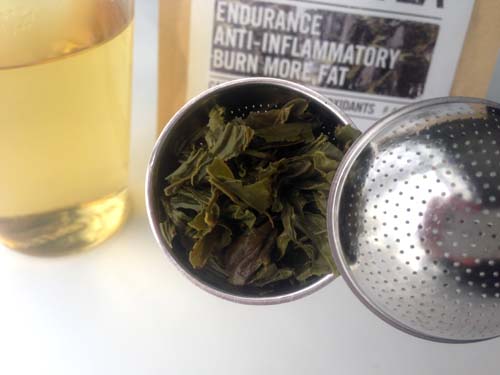 I enjoyed my first cup so much that I decided to brew a second.
I reused the same tea leaves from the first cup. One of the many benefits of using loose leaf tea is that you can re-steep the same leaves several times!
The second time I decided to steep for about 7 minutes. Each time you re-steep using the same leaves, you have to steep a little bit longer, as you lose more of the flavor from the leaves each time.
Steeping for 7 minutes seemed to have been the right amount of time because I ended up with a second cup of delicious green tea. Although the flavor wasn't as strong as the first brew, it was still smooth and sweet with that hint of an earthy aftertaste.
After having two cups of Guardian Brew I can say that I've had no jitters or crash, and I don't feel tired or sleepy either. Even now, as I write this a few hours after I've had the tea, I haven't experienced any energy crashes.
Final Thoughts
Overall I was impressed with Guardian Brew green tea by Natural Warrior Tea. Everything tied in very nicely to a smooth and refreshing taste. It was sweet and had a delicate earthy taste. It also has a small amount of caffeine, which makes for a good tea to have earlier in the day rather than in the evening. It's a lovely tea with a great taste for a green tea.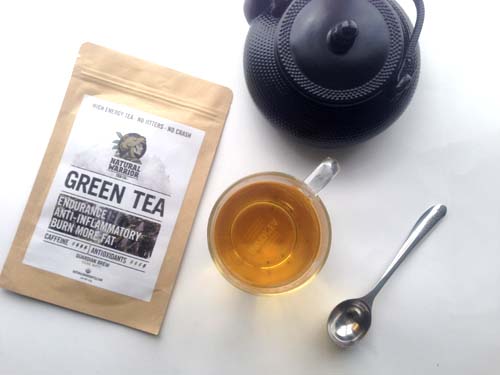 You can check out Natural Warrior Tea for more details and other great flavors by visiting their website.